If you are accessing this website from an iPhone or an iPad, press the three horizontal lines at the top right of your screen on this homepage for a dropdown menu.
Matthew no longer gives interviews as any information he wishes to share can be found on this website or his social media accounts. 
'THE LINK' LIMITED EDITION HARDBACKS HAVE ARRIVED! 
I have finally got my hands on the copies of the new special edition of "The Link" - they breathes quality and looks fabulous! 
Subtitled "The Extraordinary Gifts Of A Teenage Psychic", it was first published in 1974 and went on to sell more than one million copies before finally going out of print after 45 years. I have now republished it myself as there is still enormous interest in my early story. 
This new hardback edition, newly typeset and running to 225 pages contains over 40 illustrations, some of which have not been seen previously. 
Only 250 copies have been printed and I have signed and numbered each one individually. It is only available from my website and with the orders already received we have fewer than 40 copies remaining. It is priced at £25 + post and packing (£5.50 for UK). 
For further information or to order a copy of The Link, please visit the 'Shop' page of this website or press on the image below.
* Please note that on my website there are TWO different purchasing links: one is for post and packing to the UK and EU. The other is for all areas outside these postal zones. 
(Early next year we will be publishing it in paperback and as an ebook.)
About
 Welcome To My Website
You will find here all the information you need about different aspects of my work - private healing sessions, healing circles,  workshops, videos, healing meditations, patient feedback and a photographic gallery together with information about my Healing Community content.
I've worked as a healer for 40 years having originally spent years working with scientists in laboratories. They tested my ability to successfully influence a range of biological 'targets' including blood cells, mould samples, enzymes, seeds and cancer cells. 
I'm not a miracle worker and will always be honest about whether or not  I can help - some conditions don't respond to my healing. I work alongside the medical profession and am not an 'alternative' to orthodox treatment.
To make an appointment to see me privately, simply complete the online form providing me with your relevant medical history. Please allow at least 3 working days for a response. I do not treat psychiatric conditions.
If you'd like to be more directly involved with my work, please visit my "Healing Community" pages on this website. For a small subscription you'll have online access to a wider selection of my videos, music, meditations, artwork, articles and photographs of my past events. I also hold a weekly distant healing session together with a monthly Global Healing Event for subscribers. 
To learn more about my life, click on the video below. A selection of other videos are available on my YouTube channel.
Matthew Manning's Healing Community
MATTHEW MANNING'S HEALING COMMUNITY  
On this website, you'll find a large section entitled 'Healing Community', which comprises of a very extensive range of healing-related material.  
From these pages I hold a weekly distant healing session. You can leave your details (or those of a friend or loved one) on my interactive distant healing list and I work with all the requests that are registered.  
For the past year I have run a Global Healing Event every three months which is also included within my Healing Community pages. From the beginning of October 2021, I will be holding these more frequently on a monthly basis.  
Anita Ridley and I have recorded several albums of music for meditation and healing which are available in their entirety. Many of you will recognise the music as I frequently play it during my private healing sessions, workshops and healing circles. You'll also find my healing meditations, both old and new, within the Healing Community pages. (My meditations are no longer available in any physical format.)  
There are also dozens of in-depth articles relating to health and healing that I've written, together with artwork, inspirational poetry, and photographs.  
There is a subscription fee of just £5 per month for access to all this material and you can remain a subscriber for as long or short a time as you choose.
Please press on the logo below to subscribe.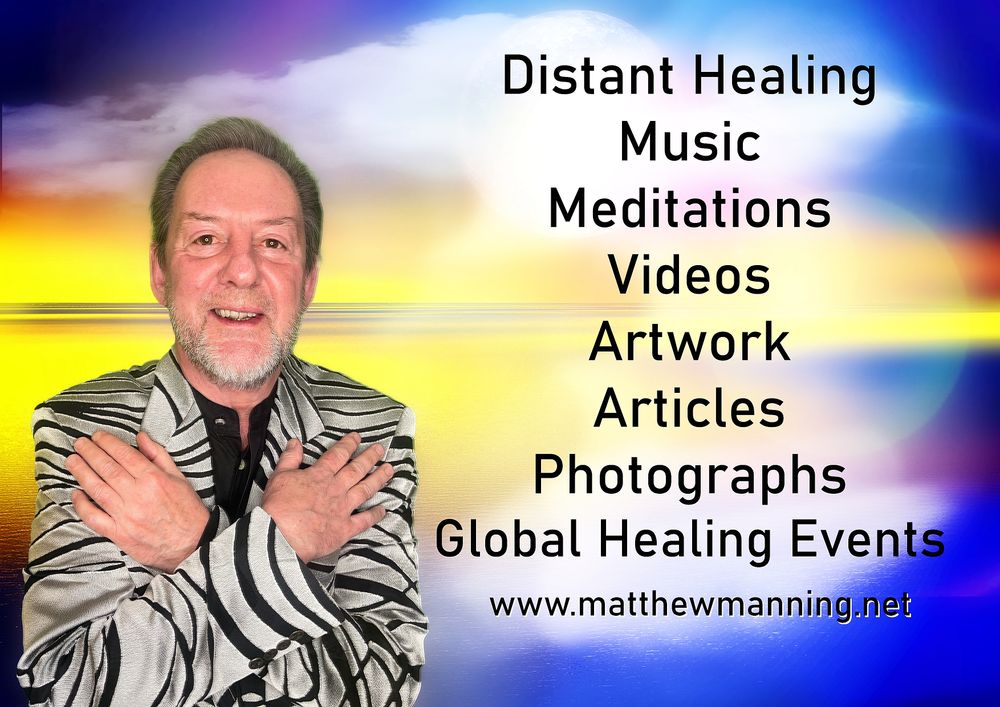 "Matthew has a remarkable track record of working at the interface between body and soul. His knowledge is outstanding in both breadth and detail"
Professor Karol Sikora, Dean of the University of Buckingham Medical School.
"Matthew Manning is an extraordinary man. I have seen many patients who have previously attended Matthew for healing and every one of them has gained considerably from their meeting with him. My many years of training as a doctor and anaesthetist have taught me how much we do not know about the body and its healing processes. Matthew's powers are not discussed in medical textbooks, but I can verify their efficacy from those patients I have met".
Dr Brian Roet, formerly of Charing Cross Hospital, London.