July 2022 - I'm about to record an 8 part podcast for Spotify.  
I feel enormously honoured to have been invited by Spotify to produce an 8-part podcast. I'll start work on it in September and they'd like it to be completed by the end of the year. 
It'll be a journey through my life and will include interviews with fellow classmates from school who experienced the early poltergeist activity around me, scientists, patients, and many others. I've got over 50 years of anecdotes, insights, and stories to share and I find it more appealing than writing another book! 
I've received numerous invitations this year to talk at conferences or contribute to other peoples' podcasts but am now having to be single-minded because I'm also working on a 90-minute television documentary, seeing patients, holding healing circles, and writing and recording new meditations. 
Time management is crucial but I'm also blessed to have a wonderful team around me. We are all going to be stretched to our limits in the coming months but it's work that we love. Later in the year I'll be able to let you know when the podcast will go live on Spotify.
Promotional trailer for my forthcoming TV documentary.
I thought you might enjoy watching this promotional trailer for a 90-minute documentary that I'm working on with a production company, Tell Tale Industries. We hope that when finished it will be shown on Netflix. 
This five-minute video includes footage from films and TV shows going back the 1970s and through to the early 2000s. In the documentary I will be revisiting many places from my 50-year journey, starting with poltergeist phenomena and then moving into healing. I might even go back into a laboratory for some more scientific testing … 
If you are interested in my early story there are still some copies remaining on my website of my first book, "The Link", which created the original storm of publicity all those years ago. 
Watching this old footage from the 1970s makes me aware of just how much speech has changed - thank goodness. Did we really talk like that!
SOUND, CAMERA, AND NO ACTION! FILMING STARTS ON A NEW DOCUMENTARY OF MY LIFE 
Thursday saw the first day of filming as I began work on a project with an independent production computer, Tell Tale Industries. We are simultaneously making a 10-part podcast and a documentary series about my life for television. 
As we began, surrounded by state of the art lighting and cameras, the usual gremlins greeted us. The card reader in the Sony video camera refused to record anything - much to the consternation of Will, an experienced cameraman, who said he had never seen that happen before. It's commonplace for me anytime I'm approached with a camera! After some minutes of head-scratching it suddenly worked again. 
During the course of filming this year we will be visiting numerous locations and I'm really excited to visit London University's Senate House who hold a substantial collection of archives of my life and work from over 50 years ago. Hopefully I won't get too emotional as I'm temporarily reunited with a part of my history. 
Tell Tale are also making a concerted effort to find as many of the television interviews that I've done over the decades - not just in the UK - but in America, Japan and other countries. It will be the most comprehensive journey through my life. 
In America work is starting on the dramatised film adaptation of my life being produced by Scarlett Johansson's production company. Knowing what Hollywood can do, I can't wait to see the special effects in that film!
Matthew Manning on 'This Morning' with Fern Britton and Philip Schofield in 2004
Matthew Manning on 'This Morning' with Penny Smith and John Suchet in 2004
Matthew co-presented 'Beyond Belief' with the late Sir David Frost on ITV in the mid -1990's. This is a clip of one of his healing demonstrations.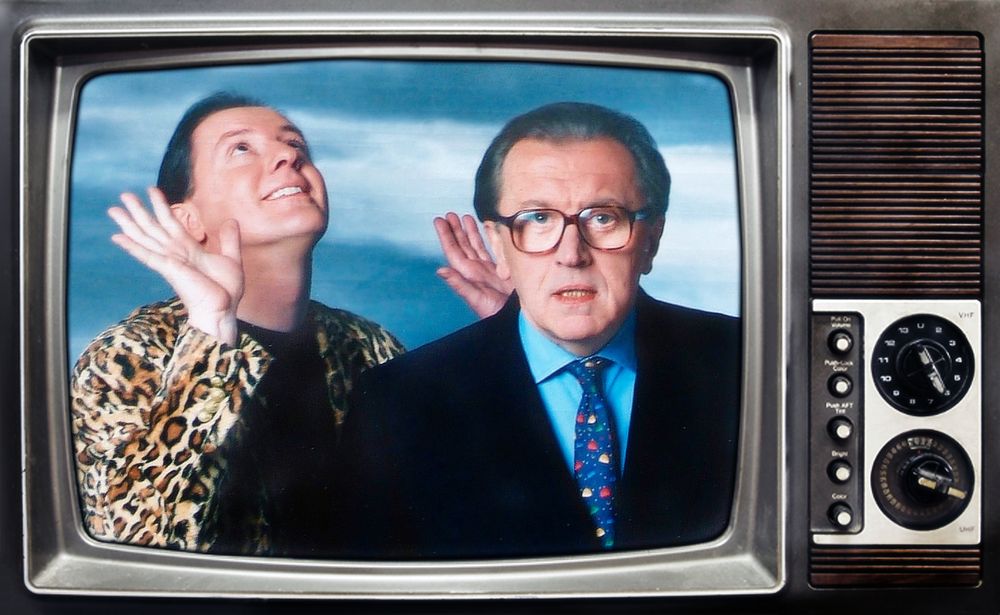 This was an extended interview for Conscious TV in the late 1990's but tells his life story.
Matthew often held mass healing events... this was filmed at the Mind Body Spirit Festival with Tim Wheater and Robert Godfrey in 1996
A contribution to 'Magic and Mystery' presented by Nick Knowles in 1996.
Matthew's first relaxation video from 1989 which he now finds so embarrasing compared to his newest videos!
Matthew Manning: Portrait of a Psychic (1974)